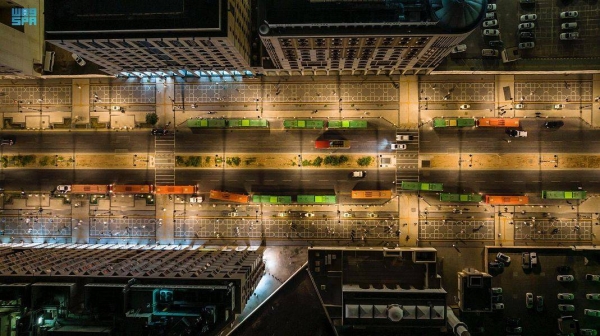 95,000 people benefit from transport services in Medina during the first 10 days of Ramadan

Saudi Gazette report
MEDINA — More than 95,000 people benefited from transport services in Madinah during the first ten days of Ramadan, the Madinah Regional Development Authority announced.
Transport services are provided by a comprehensive bus fleet consisting of 150 buses operating on 7 main routes in Medina.
Transportation services are provided from 7 stations in Medina to service stations located in the central area surrounding the Prophet's Mosque. The 7 stations are:
1 – Prince Mohammed Bin Abdulaziz International Airport Station.
2 – Haramain High Speed ​​Railway Station.
3 – Al Khalidiyyah district station.
4 – Sayyid Al-Shuhada district station.
5 – Aliat shopping center parking station.
6 – Parking station of the Islamic University of Madinah.
7 – Sports Stadium station.
Services are provided daily to the beneficiaries by the operating company under the supervision of the Authority with the participation of volunteers, from 3:00 p.m. until after Tarawih prayers in the round trip route.
It should be noted that the transport service hours will be extended during the last 10 days of Ramadan until half an hour after the performance of Qiyam Al-Layl prayers.
The authority said that in cooperation with all its partners, it aims to expand the circle of beneficiaries of public transport services in Medina.
This is in addition to improving traffic flow in the main streets of Medina and in the central area surrounding the Prophet's Mosque.
The authority said the service also aims to reduce the level of environmental pollution resulting from vehicle emissions.
It also aims to increase the quality of transport projects and the quality of life for residents and visitors, which are part of the objectives of the Kingdom's Vision 2030.