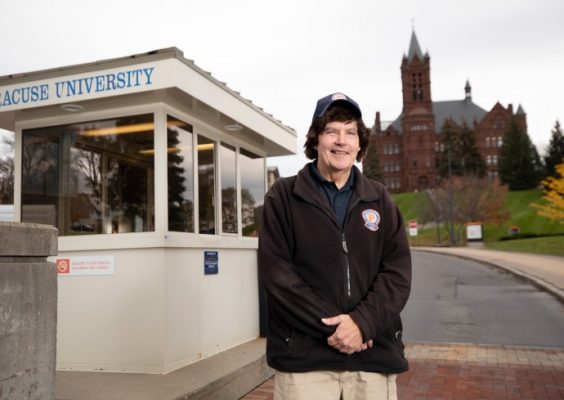 A Lasting Impression: Parking and Transportation Services Staff Ed Rother Retires After 30 Years of Service
When prospective students and families arrive on the Syracuse University campus, the first person they often meet is Ed Rother.
A member of the parking and transportation services team, Rother has worked at the university's north entrance on South Crouse Avenue for more than 29 years. In this role he has been a friendly face to faculty, staff and students. Thanks to his proximity to Crouse-Hinds Hall, home of the Office of Admissions, he has often been the first person at Syracuse University that thousands of students and families interact with when visiting the University for the first time.
Rother is retiring from the University on December 1 after 30 years of service. He says the decision to retire from a job he loves didn't happen overnight. "University has treated me well all these years, but now is a good time to do it," he says.
Rother came to the University in the summer of 1991 after a successful career in banking, where his position was cut due to mergers and downsizing. His sister worked at Parking Services University and helped get his foot in the door as a part-time staff member working on stadium events.
After the last basketball game of the season in March 1992, Rother was offered a full-time position. The landscape of the University was changing, as roads around the Schine Student Center were closed and Parking Services assumed responsibility for staffing the campus entrance gates, previously operated by the Department of Public Security. Rother trained and started his new full-time role in July 1992. He has been there ever since. "I'm glad management let me stay until I got it right," he jokes.
The timing of his new position in his life was perfect, as the hours of 7 a.m. to 3 p.m. allowed him to spend important time with his young family. "I had the best of both worlds," he says. He also manages the Manley North ground during stadium events.
Over the years, he has had a front row seat to watching the University grow and change. He has especially enjoyed working with students and families who come to the Syracuse University campus for the first time.
"They're new and some of them are really nervous because they don't know where they're going," he said. "I reassure them, they are where they need to be." Over the years, he has hosted families again and again as they progress from first visit to visitation during their students' years in Syracuse.
"For many of our students and families, Ed was their first impression of Syracuse University," says Maurice Harris, Dean of Undergraduate Admissions. "His patient, kind and helpful demeanor, always keeping the University's mission at the forefront, left lasting impressions. He is truly one of the unsung heroes of the University.
As the University is adjacent to three of Syracuse's hospitals, Rother has also been a resource for community members. "Being close to hospitals, we get a lot of lost souls looking for hospitals and doctors' surgeries. It's good to be able to help them," he says.
The job has not been without its challenges, like working in all weathers and sometimes dealing with difficult people. When that happened, he used the tactic of explaining reasonably and taking it in stride.
"Ed is a fantastic employee and friend. He is admired for his quiet and fun side and appreciated by all parking staff for sharing his wisdom and experience," said Duane Dedrick, Field Operations and Events Supervisor, Parking and Transportation Services. "I know he is looking forward to spending a lot of time with his family after he retires and we all wish him the best."
Dee Bailey, associate director of events and field operations with Parking and Transportation Services, started at the University at the same time as Rother. "Ed is a great person to know and he would do anything for you. He's been an amazing team player and will be very hard to fill his shoes," she said. "He wasn't just an employee for me, but a friend, a great listener and when I needed advice, he was there to give it to me. I know he will be very happy to spend a lot of time with his family members, who mean the world to him.
As he closes this chapter, what will Rother miss most? "People, definitely," he says. He's ready to see where retirement takes him. "I've never retired before, so it's brand new," he jokes.
A man of great faith, Rother already has plans for his first full day of retirement: attending morning mass. "I have so many things to be grateful for," he says.