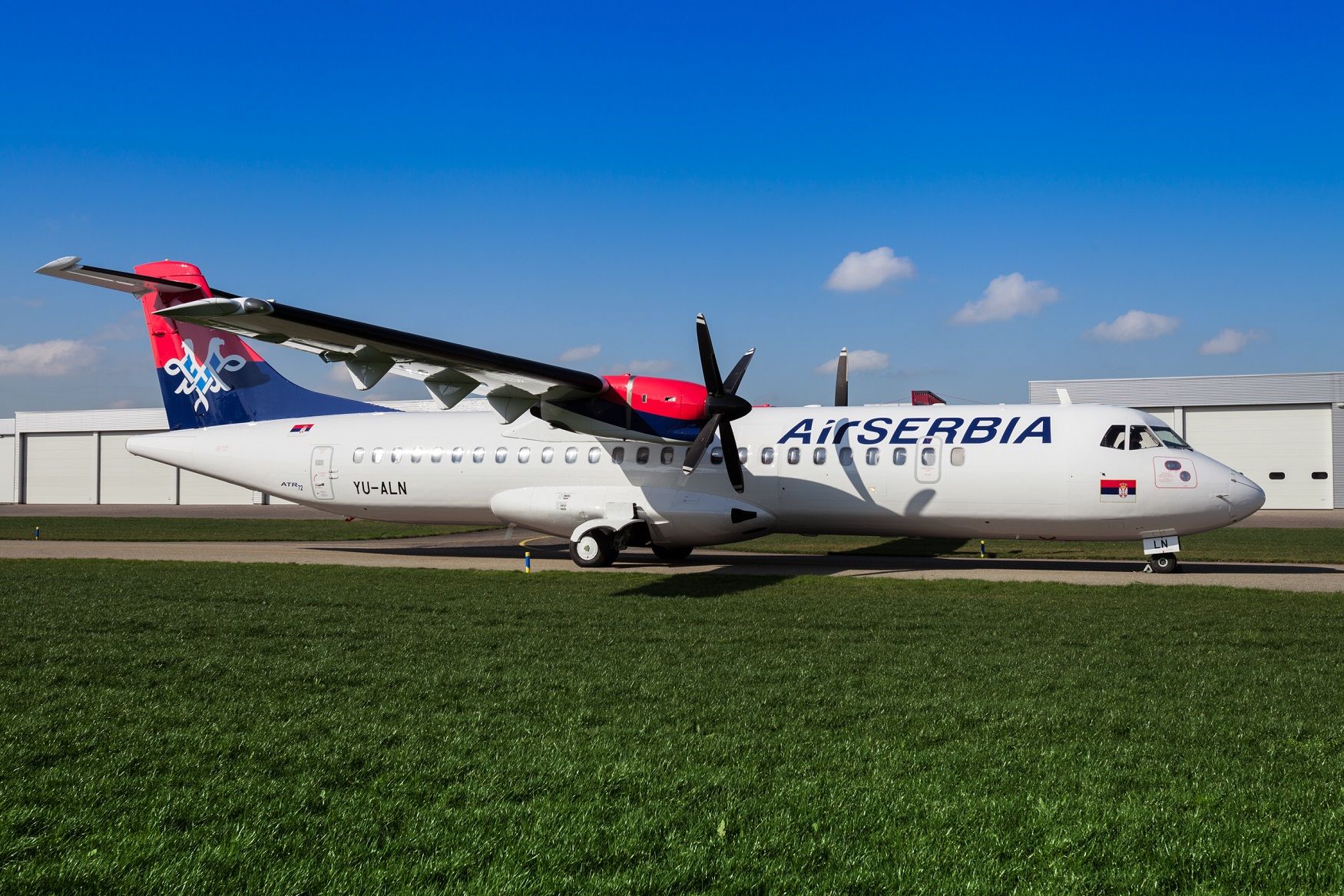 Air Serbia turns to ATR for more passenger and cargo capacity
Air Serbia is considering adding more ATR turboprops to its fleet, including possible passenger-cargo conversions for its aging ATR72-200 aircraft.
Air Serbia, the flag carrier of Serbia, recently added two ATR 72-600s to its fleet, alongside its existing three ATR 72-200s and two ATR 72-500s. Data from ch-aviation.com shows the airline also has 10 Airbus A319-100s and one each of the A320-200 and A330-200 types. Air Serbia also has four wet-leased aircraft, an Airbus A319-100 and a Boeing B737-300, B737-400 and B737-700. The B737-700, registered SX-LWC, arrived in May and is leased from Greek ACMI and charter operator Lumiwings.
Fleet renewal means adding more ATR 72-600s
Air Serbia is renewing its fleet and the ATR 72-600 is its aircraft of choice for turboprop services. Photo: Air Serbia
The airline is midway through a fleet renewal program, which is not surprising given that the average of its fleet is over 20 years old. A third ATR 72-600 is due to arrive this month to replace the only active ATR 72-500. The ATR 72-200s are nearly 32 years old and Air Serbia announces that it will phase out these aircraft when suitable ATR 72-600s become available to replace them. According to exyuaviation.com, Air Serbia plans to add two more ATR 72-600s by the end of the year, increasing its fleet from -600s to five. The report quotes Air Serbia CEO Jiri Marek as saying:
"The optimal size of the [ATR72 fleet]I would say ten because then you can start to benefit from economies of scale."
When the ATR72-200s are finally retired from passenger service, Air Serbia believes they could have a new life as freighters. All three planes are owned by Air Serbia, and the airline says it is difficult to find dedicated cargo planes it can use to enter the cargo segment. Marek said the airline is "looking into this option" and exploring the possibility of entering the cargo market, using the aircraft for cargo flights.
Cargo looks attractive for Air Serbia, partly due to its success on the Belgrade-New York route with its Airbus A330-200. In 2021, the service from Nikola Tesla Airport (BEG) in Belgrade to John F. Kennedy International Airport (JFK) in New York carried 3,900 tonnes of cargo and 61,700 passengers on its long-haul route alone.
Will the success of New York encourage a P2F conversion at Air Serbia?
The Airbus A330 has been a success for Air Serbia on the Belgrade-New York route for passenger and cargo traffic. Photo: Vincenzo Pace | single flight
In April, ATR released its catalog of external upgrades, which offers four passenger-to-freight (P2F) options in addition to its internal conversions. Third-party vendor conversions cover four basic situations, ranging from using nets on seats or floors to a full P2F conversion. The full conversion, available on all ATR42 and ATR 72 models, includes a large cargo door to the forward fuselage, allowing LD3 containers to be loaded.
The P2F conversion removes the entire passenger interior and adds reinforced cargo floor panels, an integrated auxiliary door for crew access on a loaded aircraft, and Class E safety systems. It is available from the French company PMV Engineering at a price of 1.65 million dollars and a lead time of four to five months. Intermediate options range from $40,000 to $295,000 and can be completed in less than ten weeks.
Air Serbia has announced additional summer frequencies in June on key routes including Belgrade to Athens, Dubrovnik, Larnaca, Oslo, Split and Thessaloniki. Its busiest markets in July will be Montegenro with 65 weekly flights, Germany with 29 and 25 weekly operations to Italy and Croatia. The airline will exceed pre-pandemic levels to various destinations, including Barcelona, ​​Tirana, Zurich, Dusseldorf and Larnaca.
Air Serbia is ready for a busy summer with a network encompassing more than 52 destinations and 27 countries. Let us know if you're traveling with them and what you thought.
Discover more aviation news here.
Source: exuyaviation.com