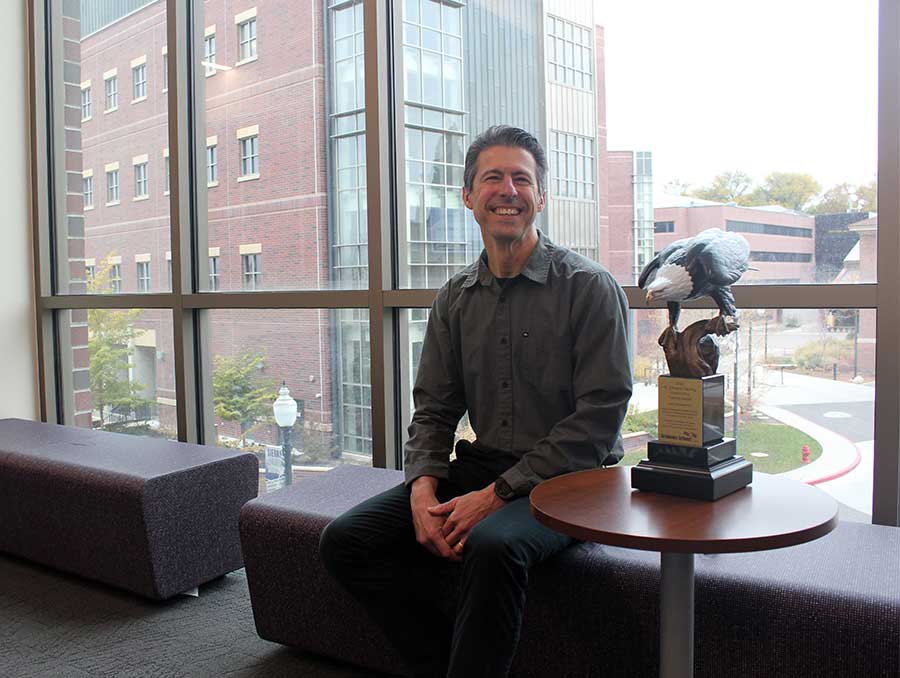 Mechanical engineering professor wins national award for nuclear packaging program
Professor Miles Greiner of the Mechanical Engineering Foundation accepted the 2022 W. Edwards Deming Outstanding Education Award in a virtual ceremony Oct. 27 on behalf of the University's Nuclear Packaging Graduate Program.
A collaboration between the University and the Department of Energy's Office of Environmental Management (DOE) Packaging Certification Program, the program has been recognized in the category of Agile Management by the Graduate School USA. The US Navy's Airborne Electronic Attack Systems Program Office was also recognized, in the human capital category.
"As the green nuclear industry grows, we need a new generation of nuclear packaging trades to replace a retiring nuclear workforce. This program helps provide these new packaging experts.
— James Shuler, DOE Packaging Certification Program Manager
The Graduate School USA, which originated as part of the United States Department of Agriculture in 1921, is a provider of professional development courses and training for the federal government and the private sector. It presents the award to a federal, state, or local government organization that exemplifies excellence with an initiative or project focused on improving quality processes within that organization.
"Nuclear packaging is not a well-known specialty, but a wide variety of advanced technologies depend on it," Greiner said.
Nuclear packaging is used to protect people and the environment during storage, transport and disposal of radioactive materials. These materials are essential for carbon-free nuclear power, defense, medical diagnostics and treatment, and other advanced scientific and practical applications.
"Advanced nuclear energy is a key part of the Mechanical Engineering Department's research portfolio," said Mechanical Engineering Department Director Petros Voulgaris. "We are proud to receive the Deming Training Award. This draws attention to the need for nuclear packaging professionals and researchers, and to the excellent teaching and research work that Professor Greiner does with his students and collaborators.
The program also aligns with one of the College of Engineering's focus areas, designing a green and circular world.
Since 2016, more than 100 students have earned college credit in the Nuclear Conditioning Graduate Program by taking nuclear conditioning courses at five different national laboratories. Seven students have obtained graduate certificates, including four in May 2022 alone. All graduates have worked or completed an internship in DOE National Laboratories.
Work is underway with national labs to develop seven new courses, according to Greiner. The viability of a new Master of Science degree in nuclear conditioning is also being explored. The program recently received a 5-year, $1 million grant from the DOE for the operation, development, and ongoing improvement of the nuclear packaging graduate program.
"As the green nuclear industry grows, we need a new generation of nuclear packaging professions to replace a retiring nuclear workforce," said James Shuler, program manager of DOE packaging certification. "This program helps provide these new packaging experts."
The program has its roots in the 80s
In 1986, the DOE Packaging Certification Program began supporting world-class experts in DOE National Laboratories to deliver specialized courses to help engineers, management professionals, and students enter and progress in the fields of nuclear packaging. In 2013, the University began working with the laboratories to offer 13 graduate courses in nuclear packaging which continue to be taught in the national laboratories. The faculty has also developed a practical course as well as two post-graduate certificates: one in nuclear packaging, another in transport safety and safeguards. The University is a suitable institution for this educational program as it has been conducting nuclear packaging research since 1993, with funding from the DOE, the US Nuclear Regulatory Commission, and the State of Nevada.
"The DOE has a long and productive partnership with the NUR and its nuclear packaging study programs," said William "Ike" White, DOE Senior Advisor for Environmental Management. "Students who receive training and certification through the Packaging University program help the department develop the next generation's well-trained, technically skilled and diverse workforce.
Nuclear packaging professionals are critical to safe operations at the Nevada National Security Site (NNSS) in Southern Nevada, the New Mexico Waste Isolation Pilot Plant, Interim Storage Facilities planned consolidations in New Mexico and Texas, as well as national laboratories and nuclear. power plants across the country and around the world.
"Nuclear conditioning skills are critical not only to our business, but also to that of many other DOE sites," said Robert Kanning, nuclear materials manager at NNSS. "We sponsored the first person to earn the Graduate Certificate in Nuclear Conditioning from UNR, and we would like to see the program grow. It's the best way we know of to recruit and train highly skilled packaging engineers. »