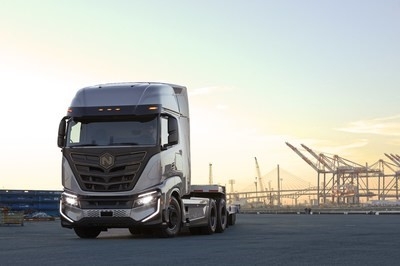 Nikola delivers the first Tre battery-electric trucks to Total Transportation Services Inc.
Nikola Company on December 17, delivered the first Nikola Tre battery electric vehicle (BEV) pilot trucks to Total Transportation Services Inc. (TTSI), one of Southern California's leading port trucking companies, to accelerate zero-emissions transportation solutions at the Ports of Los Angeles and Long Beach.
Present at the ceremony was the US Representative. Nanette Diaz Barraganwho represents California's 44th District, State Sen. steven bradford (SD-35) and representatives from several federal, state, and local officials and organizations.
After the program, guests had the opportunity to experience the Tre BEV first-hand in demonstrations and as truck passengers.
"Nikola is committed to making its first Tre BEV deliveries in Q4 2021 and it is a great honor to celebrate this milestone with our partner, TTSI, and dignitaries who are committed to advancing transportation solutions at zero emissions to reduce truck emissions in port operations," said Nikola CEO Marc Russell. "TTSI has important sustainability goals, and we're excited to help them realize their vision with our zero-emission trucks."
As previously announced, TTSI's intention is for 100 zero-emission trucks, starting with a four-truck pilot consisting of two BEVs and two FCEVs. Based on the satisfactory completion of vehicle testing and subject to TTSI securing some government funding, 30 BEVs are expected to follow later in 2022, and 70 FCEVs are expected to start in 2023.
The Nikola Tre BEV is designed for local deliveries up to 350 miles. The Nikola Tre FCEV truck is targeted for distances up to 500 miles and is expected to address the North American regional market, particularly where additional hauling capacity or rapid refueling is required by fleet operators.
"Today represents a major milestone in our continued quest to achieve a zero-emissions fleet, which is why…