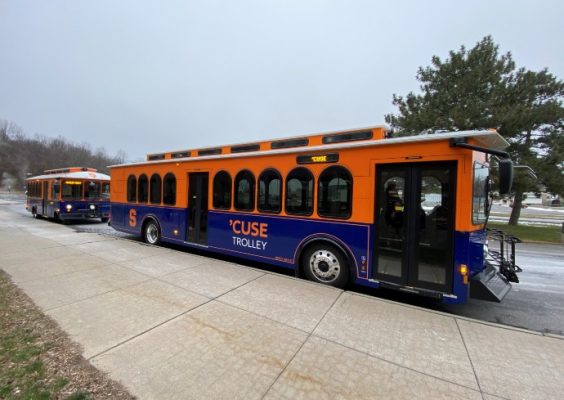 Parking and transportation services to restore late-night warehouse shuttle service following Centro discounts
Campus and community
Parking and Transportation Services announced that effective Monday, October 11, late night service on weekdays will be reinstated on the warehouse shuttle route. While Centro will continue to serve the route during daylight hours, 'Cuse Trolleys will now cover the service Monday through Friday, 8 p.m. to 3 a.m.
Last month, after Centro announced route reductions Across its coverage area, Parking and Transportation Services has temporarily suspended three low-traffic nightly shuttle services to provide trolleys to cover South Campus shuttle trips after 8 p.m. With the addition of new drivers and an additional cart to its fleet, Parking and Transportation Services are now able to re-establish weekday night service on the warehouse shuttle route.
The office will continue to work to add resources to fully restore the service of the night shuttles which remain suspended. In the meantime, passengers requiring transportation along the old Euclid or Late Night Campus Shuttle should contact the on-demand service. Parking and transportation services Security escort shuttle, which has extended its opening hours from 8 p.m. to 6 a.m. The safety shuttle service can be requested by calling 315.443.RIDE (7433).
The University will update its campus shuttle site to reflect the new operating hours as quickly as possible.