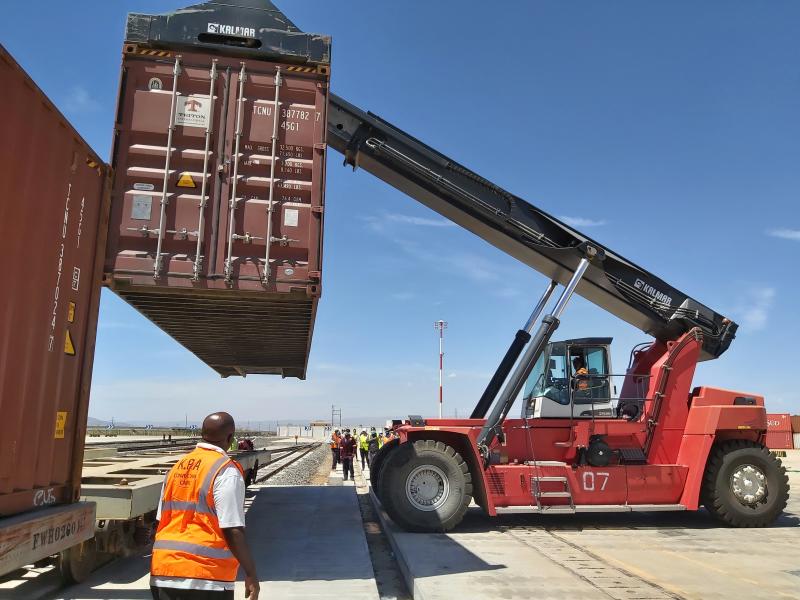 Plan to make full use of railway to transport goods from port sparks storm
Coastal towns along the Northern Corridor are expected to be hit with a new wave of economic hardship once Kenya Railways begins transporting goods directly from Mombasa to Malaba.
It would be the opposite in the Rift Valley, however, particularly in Nakuru, where the region's governor, Lee Kinyanjui, said it could hasten an economic boom in the new town.
"We expect clearance and advancement operations to be carried out around Longonot and Mai Mahiu, which is now one of the fastest growing towns in the country," he said.
On Monday, Kenya Railways chief executive Phillip Maingi said the move would cut the time needed to transport goods from Mombasa to Malaba by trucks from the current four days to 28 hours.
"It will not only reduce the traffic on the roads but will also reduce the expenses incurred by businesses and individuals while transporting goods," he said at the launch of the Naivasha trial train.
Yesterday, freight stakeholders in Mombasa said the new scheme would be a blow to the road transport sector which depends on last mile activity to stay afloat.
The Kenya Ships Agents Association has also said that for the directive to work and avoid additional charges for importers, KR needs to ensure seamless transport connectivity from the SGR to the Meter Gauge Railway in Naivasha.
KSAA Managing Director, Juma Tellah, said a thorough bill of lading (TBL) system should also be introduced to ensure cargo safety and security.
"We opposed it last year because the systems weren't in place. If implemented haphazardly, it could lead to delays that lead to demurrage," he said.
Under the new agreement, goods collected at Mombasa Port will be delivered to the inland container depot at Mai Mahiu using standard gauge railway. Once at the ICD, it will be transferred to the new Mai Mahiu-Longonot railway line to be transported to Malaba through the meter gauge railway line. "There were concerns in Uganda about the high tariffs the country was charging, but we have revised that by around 50%," Maingi said.
But Samson Makhoha, president of the truckers' association, said he feared massive job losses.
"It will mean job losses for dozens of drivers, mechanics and even insurance companies who insure this cargo and these vehicles," he said, adding that "cities along the highway Mombasa-Nairobi-Malaba who depended on truck drivers will suffer a painful death." However, Naivasha Road Safety Chairman James Kabono noted that 80% of accidents and traffic jams along the Mai Mahiu- Limuru were caused by trailers.