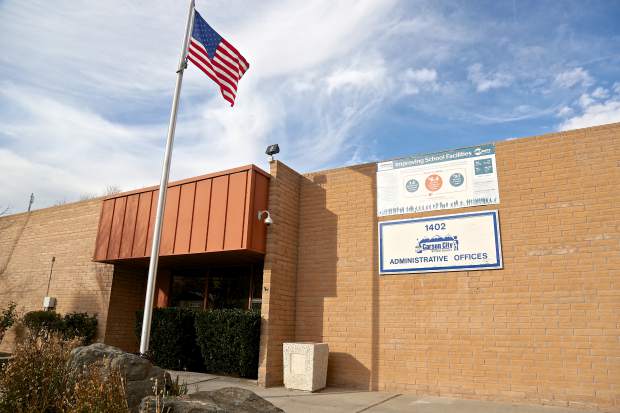 The Carson City School District will limit transportation services Monday and Tuesday
After announcing that transportation services would be limited to special education routes beginning Friday, Carson City School District Superintendent Richard Stokes said the limitations would continue Monday and Tuesday.
"At the moment we are looking at around 50% of the staff able to work and if we have these kinds of vacancies we have drivers who come back and do several journeys, and that means children are left at bus stops," Stokes told reporters on Friday. .
Stokes said Thursday night that Transportation Department Supervisor Cheri Fletcher said she would struggle to find enough drivers to get students home. Staff members immediately began looking at options and began calling families to limit services, he said.
"We work with what we have and illnesses, employee absences don't happen on a 9 to 5 scale," Stokes said. "Sometimes we only learn these things during the working day. Rather than leaving children stranded or not being able to operate as our customers are used to, we felt it was in their best interests to limit services.
The administration also makes similar calls during inclement weather, he said. Calls often came on short notice and the district issued a statement responding that it was seeking to provide as much information in advance as soon as possible, with parents expressing displeasure at receiving 12 hours' notice or less on Thursday. .
District spokesman Dan Davis confirmed Friday that of the approximately 8,000 students in Carson City, about 1,500 or 18% are affected by the current loss of services.
The district has about 30 routes, of which 20 are regular routes and 10 are adapted routes.
The message was originally sent to parents around 4:20 p.m., Stokes said, and he noted that the CCSD system remains "robust."
"We appreciate the dedication of our staff and really appreciate the flexibility and willingness of our families to work with us," he said. "Things will change. We will hopefully try to work with each other and find the best solutions, if we can, in these unprecedented times."
Asked if the limitation of these services should have an impact on other district services, he added: "Our people have mobilized at all levels. The teachers worked in a positive way that they usually don't have to prepare for. They are rolling up their sleeves and trying to keep schools open so we don't have to go full distance.
According to Davis, starting Friday, parents and families should plan to transport their children to school on Monday and Tuesday.
Parents who have questions about their child's studies or attendance are encouraged to contact their school.
"We are grateful to the families and students who continue to show patience and kindness in the face of continuing staff shortages. Families should plan to transport students to and from school on Mondays and Tuesdays. Buses will continue to operate for students with IEPs (Individual Education Plans) specifically noting transportation needs," the school district said in a statement at 4:50 p.m. Friday.
"When we make tough decisions like limiting transportation services or closing schools, we understand the impact and inconvenience families experience. It's not something we take lightly. We know how difficult it can be to arrange rides, babysitters or daycare; so thank you for your patience.
If students are unable to attend school or if parents and families have questions about school materials or attendance, they should contact their student's school. »
The district continues to encourage parents, families and employees to perform daily self-screenings. If an employee or student is actively showing symptoms of illness, the district encourages them to stay home. Please refer to the revised isolation and quarantine guidelines provided by the county health department.