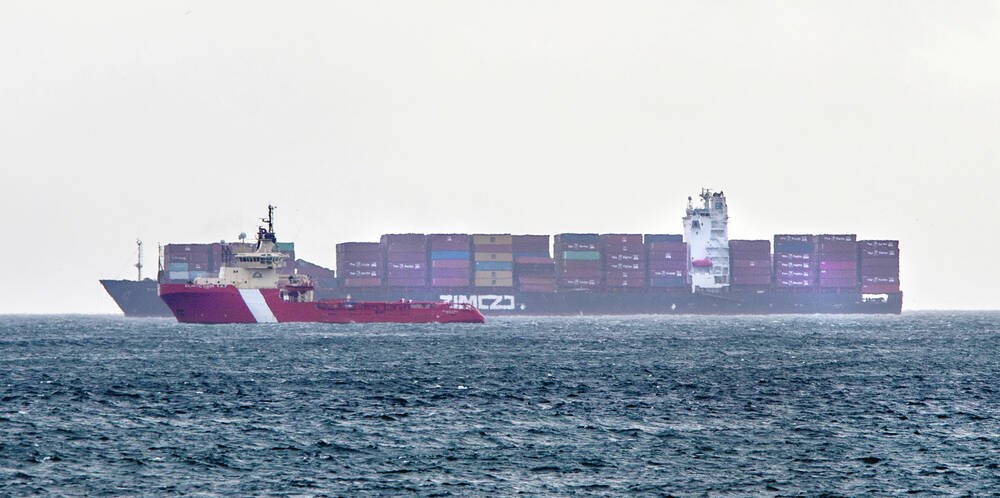 Unloading damaged containers from cargo ship Zim Kingston could take weeks
A contingent of support vessels will follow the freighter through traditional shipping lanes, including two tugs and marine mammal and environmental protection vessels.
Removing 60 containers damaged by fire and inclement weather aboard the cargo ship Zim Kingston could take up to 12 days and involve several salvage contractors, as well as safety and regulatory agencies, the Port of Nanaimo said.
The 260-meter Zim Kingston, which dumped 109 containers off Vancouver Island and saw other cargo catch on fire in late October, left its anchorage at Constance Bank off Victoria on Friday en route to Nanaimo with about 2,000 containers on board.
The ship will stay at anchor off Protection Island near Nanaimo for about a week before a berth and dock are prepared next Friday, and cranes can begin maneuvering containers out of the ship, Ian said. Marr, General Manager of the Port of Nanaimo.
"It's definitely an interesting job ahead of us," said Marr.
Zim Kingston had been anchored at Constance Bank for 40 days after a fire ravaged several containers – some carrying hazardous materials – and forced the evacuation of the ship's crew.
Prior to her arrival, the ship had entered rough seas at the entrance to the Strait of Juan de Fuca on October 21 and 22, dumping 109 containers into the Pacific Ocean. Four containers smashed and washed up on the island's northern shores, littering beaches with debris ranging from fridges and sofas to Christmas decorations and school supplies.
The Zim Kingston's voyage from Constance Bank to Protection Island was to last 11 hours at a speed of eight knots.
The ship was flanked by the Canadian Coast Guard, a pair of tugs, and other vessels with environmental and marine mammal specialists.
A rescue company hired by the ship's owner, Greece-based Danaos Shipping Co., was on board to monitor the stability of the containers during transit and provide fire-fighting capability if needed, the guards said. ribs.
Damaged containers and other debris will be unloaded in Nanaimo. The Zim Kingston is then expected to move its remaining containers to the Port of Vancouver.
Satinder Singh, vice president of marine operations at the Port of Nanaimo, said unloading the Zim Kingston would be a long and careful process. The vessel has undamaged overhanging containers that will need to be unloaded and stacked before crane operators can safely reach those damaged in two areas of the vessel where fires have occurred.
Rescue teams have identified at least 58 damaged containers, but others will likely need to be unloaded and inspected, with some returned on board.
Singh was not sure how many workers were involved, but said the team will include rescue teams and contractors from the shipowner, officials from Canada Customs, Transport Canada and environmental government agencies, as well as crews from the port operator, DP World, which would operate cranes and provide logistics and safety measures on and around the water, as well as the stewardship of the vessel.
Marr said all damaged containers will be placed in a designated area, opened and inspected to determine what can be recovered. "Materials will be sorted and all disposal debris will be identified and assessed for disposal in accordance with environmental standards. "
He said where the debris ends up will likely be decided by the Environment Ministry.
A total of 105 containers, including two carrying a dangerous substance used in the mining industry, are still missing and reportedly sunk. The Canadian Coast Guard said it was continuing to work with Danaos Shipping Co. to determine if it was possible to locate the missing containers.
A total of 27,360 kilograms of debris had been removed from the island's beaches by Friday, which does not include five large bins still at Jurassic Point, the site of the final beach clean-up.
The Coast Guard said the shipowner will continue to search for debris at known accumulation sites every few months and remove any debris that may have come from the Zim Kingston. Coastguard crews also check for debris when making scheduled flights over the area.
Anyone who sees marine debris is asked to report it to the Canadian Coast Guard by calling 1-800-889-8852.
The Port of Nanaimo has deep waters capable of accommodating vessels the size of Zim Kingston, while the Port of Vancouver – late at best at the best of times – is now squeezed by a shortage of trucks and flood-related closures of the main transport corridors.
Marr said the Port of Nanaimo is operating at full capacity at its Duke Point site and is working with the City of Nanaimo in its official community plans to acquire more industrial land to expand the port.
With reports that the Port of Vancouver is reaching capacity due to shortages of industrial land, Nanaimo is an increasingly viable site for goods shipped to the West Coast, Marr said.
"Part of our plan has always been to increase the resilience of Vancouver Island, so that the island can fend for itself in terms of the goods we need," said Marr, adding that the damage caused by last month's floods were a reminder of how disrupted supply chains can be.
– – –
To comment on this article, send a letter to the editor: [email protected]